DIS Weekly #17
DIS Weekly covers developments in the space of decentralized infrastructure solutions.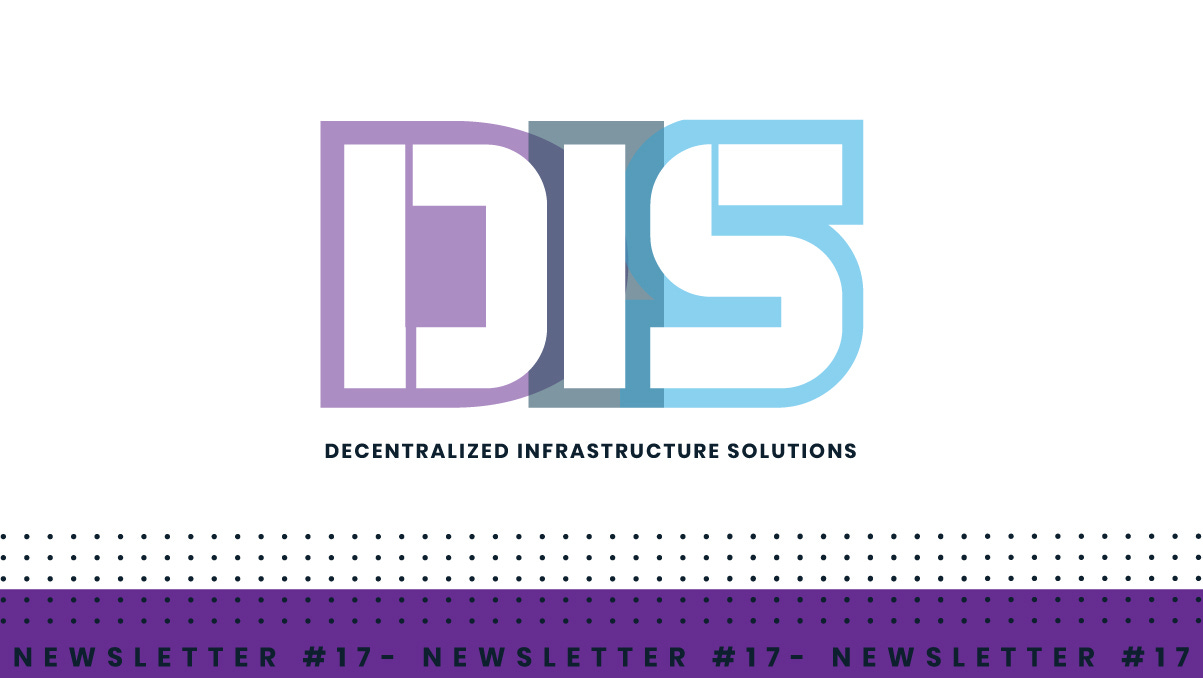 If you'd like to submit your project updates or podcast episodes for the next round of DIS Weekly / DIS Moment, email us at dis@pokt.network or DM us at @DISweekly.
//NODE INFRASTRUCTURE//
Figment Networks is an institutional-grade blockchain infrastructure and staking provider.
Figment received a Tezos Foundation grant to build a high-level analytics, alerts, and governance tool for the Tezos ecosystem. The goal is to provide the most useful information for Tezos bakers and delegates.
By adding Tezos, Hubble becomes a multi-chain staking explorer for five networks, with more coming soon. It currently supports testnet launches, mainnet delegation research, governance, monitoring and alerting, as well as, rewards reporting for tax purposes.
Infura is an API suite that provides access over HTTPS and WebSockets to the Ethereum and IPFS networks.
At DevConV, Infura shared insights from years of experience and knowledge as Ethereum's largest blockchain infra-as-a-service provider to help the Web3 community build better infrastructure.
As part of Infura's Open Architecture Initiative, they've shared this blog post that takes the reader through its evolution and gives them a sneak peek of what is to come.
They'll be rolling out:
Official support for trace methods

Expanding support for gas interactions

A full suite of transaction tools

Additional features for the Infura Dashboard

More support for and collaborations with Web3 projects
The OAN is an open-source public infrastructure that creates a new design space for Open Applications.
The AION Network relaunches as the Open Application Network! Its mission is to solve the unintended consequences of platform economies with next-gen solutions.
Aion remains as the digital asset of the OAN. It is used to meter and pay for the usage of the network, as well as, to compensate those contributing to its operations.
There are no disruptions nor changes to current applications or node operations.
Pocket is a trustless API layer, providing easy access to any blockchain.
Just this evening, Pocket announced the release of their latest whitepaper! It covers the newest updates related to mainnet architecture, token economics, and on-chain governance.
Lead Governance Researcher Jack A. Laing published "Moderating a DAO" that illustrates how Pocket intends to leverage Aragon's Tollgate and Approval apps for DAO stewardship.
Pocket shared an important milestone at the end of last week, breaking a previous record of one million daily API requests by leapfrogging to over ten million API requests (10x+).
Also, last week, they welcomed Arcadia, a blockchain and ML-centric software development company, to the Pocket Network. They are running nodes and working on Pocket integrations for other blockchains!
//WEB3 TOOLBOX//
APIs for identity, profiles, storage, messaging, and comments.
Metamask users can now back up their extension data to a decentralized storage solution by enabling the automatic, and seamless 3Box Sync in the wallet's advanced settings.
Beforehand, MetaMask wallet data remained siloed in the localStorage of a browser. By saving wallet data to 3Box, it is made available to users wherever they access web3 with their Ethereum account.
Open Work Labs joins the 3Box extended team on contract in order to get 3Box SDK working in React Native.
Check out these projects recently made with 3Box:
Esence.Us (A decentralized identity note-taking application)

ΞID Mobile (An opensource decentralized identity wallet)
AirGap is an open-source project developing the new crypto wallet standard.
Papers, the development group behind AirGap and tezblock, has received an additional grant from the Tezos Foundation to further develop tezblock, a user-friendly Tezos block explorer, and create a wallet interaction standard to help users interact with applications built on Tezos. They'll use this standard to develop a browser extension that allows any application developer to easily incorporate a wallet through a generic implementation.
//LAYER DOS//
The Raiden Network is an off-chain scaling solution, enabling near-instant, low-fee, and scalable payments. It's complementary to the Ethereum blockchain and works with any ERC20 compatible token.
The Raiden Trust submission window closed on August 31st. Its first wave of grant applications are currently being reviewed, and the results should be announced soon!
Raiden Pulse #8 shared development progress towards Alderaan mainnet, as well as, general updates about the Raiden Client, Light Client, Explorer, and WebUI.
Celer Network is a leading layer-2 scaling platform that enables fast, easy, and secure off-chain transactions for not only payment transactions, but also generalized off-chain smart contract.
Last week, the Celer team happily announced that CelerX made its official debut on the Apple App Store. In the process, becoming the first blockchain eSports iOS app. To celebrate they launched a campaign to give away $10k in ETH!
Alongside the CelerX Apple App Store debut, new features were added to the gaming platform. This includes Asychronize Match and Cloud Backup.
//WALLETS//
The WeChat of the Web3 World. It's a SuperD/app that houses all your favorite applications, even non-crypto like duck duck go, as mini-dapps.
Super D/App Alice integrates the Trust Wallet Core framework to support multiple blockchain networks. It's now possible to build mini-dapps on Ethereum, Bitcoin, Binance, and Cosmos.
Portis is a universal Web3 interface with a user-friendly, familiar email and password login mechanism that doesn't need a third-party installation.
KnownOrigin has integrated Portis. Now, users can select Portis to discover and collect digital artwork on the KO platform.
Portis has also been integrated (alongside Brave Wallet and MetaMask) into Multis, giving users more options for signing their multi-sig transactions.
MEW is a free, client-side interface for users to interact with the Ethereum blockchain.
Say hello to the new My Ether Wallet Chrome extension MEWcx!
MEWcx features a fully redesigned interface with Web3 DApp support, temporary burner addresses, and the option to select different wallets to interact with different decentralized applications. It's actually the first Web3 Wallet to give you that option.
If you already have the old MEW extension, it will automatically update.
Metamask is a Web3 bridge that allows users to run Ethereum DApps in your browser without running a full ethereum node. Also, now available on mobile.
MetaMask participates in the trend of sharing DevCon5 talks through Twitter threads. Follow along with Web3 Wallets: The Next Evolution twitter thread presented by Dan Finlay and Erik Marks.
Alternatively, you can watch the video version here:
//DEFI//
PoolTogether is a no-loss, audited savings game powered by ethereum.
On November 1st, PoolTogether announced a new product update! Users are now able to view details on the total number of participants and the total contract DAI balance of the pool from the application screen. Just tap the heartbeat pulse looking icon on the top right corner.
Last week's winner won with only 11 tickets! For more details, check out the prize stats.
Kyber Network is an on-chain liquidity protocol that aggregates liquidity from a wide range of reserves, powering instant and secure token exchange in any decentralized application.
The Kyber DeFi Hackathon public voting session ends tomorrow. In this "People's Choice Award", $500 of KNC will be given to the project with the number of most DevPost votes.
These are some of the projects that caught my eye!
dDAI lets users earn ETH, BTC, or GOLD by lending DAI.

ZAP allocates capital across different DeFi protocols with a single, cost-effective transaction.

MetaMoneyMarket adds support for Kyber Swap, BZX, and many other tokens.
//DOGR TECH//
The LAO is a for-profit, limited liability autonomous organization that provides a legal framework to enable members to invest in blockchain-based projects.
The LAO gives crypto-twitter an early sneak peek on the future of venture DAOs!
It will be anchored by 10 founding members, which must be accredited investors, followed by another 90 members sourced through a public crowd sale. As seen in the video, the administration of the LAO will be handled with a DApp. This provides the means for projects to apply for funding and members to vote for which projects should receive funding, all while the legal contracts automatically get created on the backend.
//PODCASTS//
Ethereum & Mist with Alex Van de Sande
MIT's Digital Currency Initiative - Why We Need Blockchain Ethics with Rhy Lindmark
Tees with Yan Michalevsky from Anjuna
Gnosis Safe: Improving Security & UX with Smart Contract Wallets
Blocknet: Building the Interchain with Arlyn Culwick
Enjin: Does Blockchain Actually Matter for Gaming?
Investing in Ether, with Andrew Keys
//DIS MOMENT//
No. 10 https://twitter.com/i/moments/1167156913156612097
No. 11 https://twitter.com/i/moments/1170031387694567425
No. 12 https://twitter.com/i/moments/1172477041872121856
No. 13 https://twitter.com/i/moments/1174730106436239360
No. 14 https://twitter.com/i/moments/1177605005584539651
No. 15 https://twitter.com/i/moments/1179809079709097984
No. 16 https://twitter.com/i/moments/1182671105754128385
No. 17 https://twitter.com/i/moments/1184138794993442823
No. 18 https://twitter.com/i/moments/1187750326151143424
No. 19 https://twitter.com/i/moments/1189971717919260672
For more moments and tweets, follow DIS Weekly on Twitter at @DISWeekly.
Powered by the Pocket Network team. By signing up for the newsletter you are also opting into receiving email updates from Pocket Network (currently only 1 per month). No spam ever.