DIS Weekly #2
DIS Weekly covers developments in the decentralized infrastructure solutions space.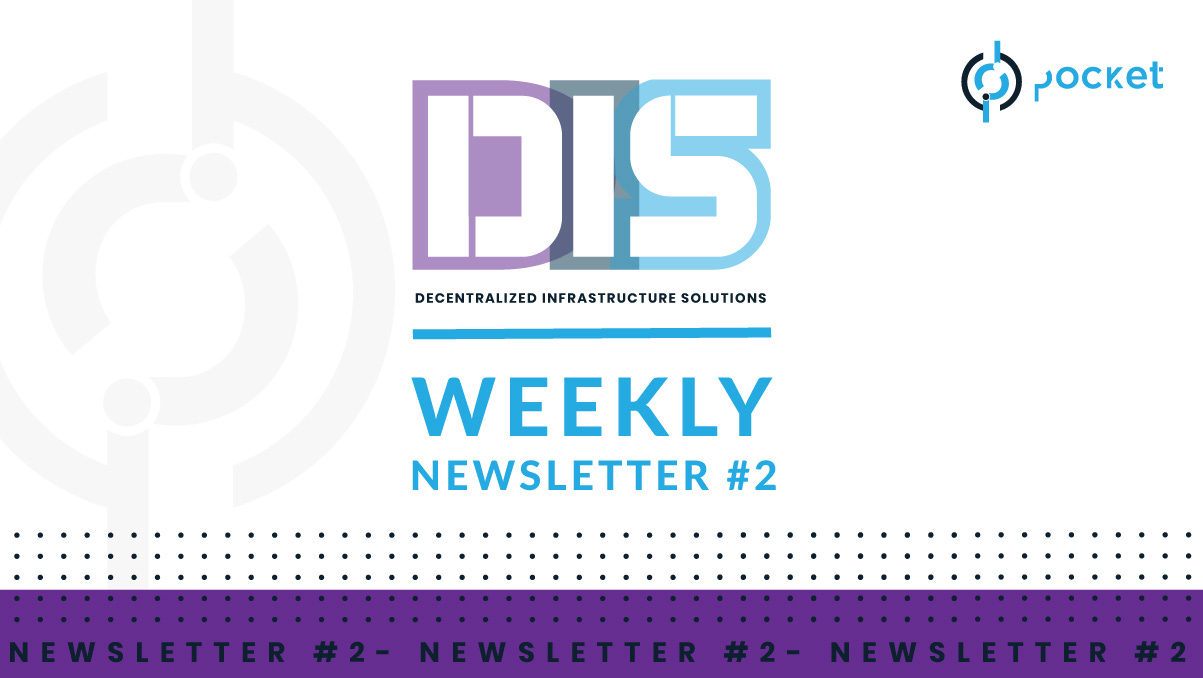 If you'd like to submit your project updates for the next round of DIS Weekly / DIS Moment, email us at dis@pokt.network or DM us at @DISweekly.
//NODE INFRASTRUCTURE//
Nodlers that own a DAppNode now have SGX support. SGX enables secure remote computation, which means that packages in DAppNode will be able to harness a secure enclave in the hardware for any purpose required. Like, executing enclaved DApps. As DappNode puts it "This is an important step for regaining ownership of our data" and building a trustless cloud owned by the people.
nodl has recently released nodl sw 0.0.7d with lightning lnd 0.7.0-beta. The team is working on watchtowers configuration in UI next. In other news, samourai x nodl DOJO may or may not look like this.
Congratulations are in order for AVADO being one of the Web3 Foundation's grant recipients. This cohort is tasked with improving Web3 and Polkadot ecosystems. AVADO plans to make it super easy to create and run your own substrate blockchain out of the box. Currently, Polkadot Network's "Alexander Testnet" is available on AVADO, marking their first milestone to be accepted by the Web3 Foundation. Last month, the team announced the AVADO Nakamoto Version, which is a plug n' play Bitcoin node that comes with a QuadCore Intel Celeron N3150 CPU and 8GB of RAM.
Earlier this month, the Ethereum Classic Cooperative announced their latest project release EtherCluster, an open-source alternative to Infura. EtherCluster uses the latest infra-as-code tech Kubernete, Terraform, and Docker. Not only does it provide Ethereum Classic (ETC) and Kotti endpoints for free, but also serves as a design specification for building your own blockchain infrastructure. It's built to scale seamlessly with increased usage and demand. ETC Cooperative had many reasons to build EtherCluster: 1) Infura does not include Ethereum Classic as an option to connect to 2) Wait times to integrate Infura 3) Wanting to provide an alternative to Infura for both ETC and any EVM-based network.
Shortly after, they announced enSuite, which is the combination of enOS, enAPI, enKeep, and enDashboard. enOS is a Linux distro stacked with several tools for swiftly deploying blockchain solutions. Written in nodeJS employing the Pristine-typescript and adhering to Open-RPC schema, the enAPI is a JSON-RPC based API. enKeep is a rock64pro single board computer that has an Octa core ARM v8 64bit based CPU and 4GB of RAM and a NVMe SSD, as well as, built in WiFi, Bluetooth, and 1GB Ethernet port. It comes pre-loaded with the enOS stack, which includes their custom version of enDashoard serving as it's UI.
Infura just turned three years old. What better way to celebrate a birthday, than to launch a new Ethereum API subscription service Infura+. Alongside the free Core tier, Infura + provides three other subscription tiers: Developer, Team, and Growth. As an application grows in daily request volume, a developer can upgrade their account when their application requires more requests per day. Infura is currently offering a 3 month free trial for all subscription configurations.
Nodesmith has added support for the cosmos hub network on their platform, so now developers can get connected in under a minute to cosmos using Nodesmith's hosted node infrastructure.
The first of its kind, Celer Network launches Cygnus, their alpha mainnet, marking the first live generalized state channel network on Ethereum. It's a low-cost layer 2 solution with programmable smart contracts, accelerated interaction latency (by 10,000x), feeless off-chain smart contract transactions, and instant private micropayments.
Alongside the mainnet launch, Celer Network concurrently released two products: Celer X and CelerX eSport Gaming SDK. CelerX, Cygnus' gaming hub, provides end users a place to develop skills and play to earn cryptocurrency (in ETH, DAI, and CELR) through eSport games. With only two lines of code, developers can integrate the CelerX eSport Gaming SDK into their HTML5 games to immediately monetize them. Celer Network offers devs a frictionless development experience, making it super simple and quick to take advantage of Cygnus' features.
Pocket has been on a roll lately! Earlier this month, the team announced the official release Pocket Core MVP 1.7, which includes improvements like a modified chains.json file, an enhanced Pocket Android plugin with AION Virtual Machine compatibility, and support for REST API calls. FIO has welcomed Pocket Network as it's newest affiliate member, joining Portis and other industry leaders in the blockchain space. Also, Figment and Pocket have teamed up to submit an ICON P-Rep proposal. Most recently, Lightstreams formed a partnership with Pocket. Developers can easily connect to a decentralized node infrastructure of Lighstreams via a Web3 Provider without worrying about maintaining their own nodes.
The Pocket team has submitted a couple of pull requests to Nifty Wallet, MyEtherWallet, Pokketo Wallet, and Metamask. They are currently under review; however, soon you'll be able to choose a radically decentralized option for your favorite wallets. For more updates and sneak peeks, make sure to subscribe to their monthly newsletter.
Raiden Network recently announced thier latest release v0.100.4 codenamed "thehighfiveghost". Its most significant enhances on the current codebase was the improved handling of pruned blocks inside the raident client. Several other improvements are included in the new feature list, such as, a channel withdraw feature and permissive source routing.
For an explanation of the Raiden Service Bundle, the Raiden team has provided this tech deep dive blog post.
Polkadot has announced the release of Kusama Network, an experimental community research and development network. It's an early, unadited, and unrefined release of Polkadot. Like a canary in a coal mine, this canary-net is meant to warn Polkadot of potential issues and to explore wild experiments.
The Kusama network will have its own native token KSM, which you can use to validate, nominate validators, bond parachains, and pay for interop message passing, and vote on governance referenda.
Blockdaemon plans to support the Kusama network as soon as it's launched this summer.
//WALLETS//
Universal, multi-chain wallet Portis has recently announced partnerships with Thunder Protocol and Lightstreams. Also, Portis is now integrated in 1inch.exchange, a token swap aggregator, so end users can get the tokens they desire in their wallet by finding the best trades. In other news, Chari, donation matching on Ethereum, won the Portis bounty from the joint GitCoin and Consensys hackathon Beyond Blockchain.
Portis CEO Tom Teman brought up a good point during his talk at Consensus 2019. He said "Your users won't pay network fees so sponsor them instead". Watch this video where he explains how Portis leverages Taboo Key's Gas Stations Network to pave the way towards mainstream adoption.
Rainbow is now available on the Apple App Store. They are getting ready to promptly ship: 1) surfacing uniswap liquidity tokens 2) better organization for collectibles 3) performance improvements.
https://twitter.com/rainbowdotme/status/1149457787228831745
Experience decentralized identity in action firsthand with uPortlandia, a smart city simulation! This is uPort's vision for the future of data and identity management. You'll need to download the uPort app to play around with the demo. uPortlandia is a fictitious smart city, inspired by Italo Calvino's Invisible Cities, "where the municipal government is eager to return data ownership back to their citizens, while ensuring economic dynamism and growth".
End users of Gnosis Safe will now be able to pay transactions with MKR, GEN, KNC, OWL, and DAI. Soon, they'll be able to use hardware wallets like the Keycard from Status to authorize transactions with Gnosis Safe. The team is also working on a Wallet Connect integration that'll enable wallet users to utilize their mobile safe with desktop apps, simply by scanning a QR code.
Fun Fact: ⅓ of all dXDAO participants are using the Gnosis Safe, according to this tweet.
//DEFI//
Heiswap.exchange, an ethereum mixer based on ring signatures and stealth addresses, is live right now on the ropsten network. You'll be able to wash your ETH in a confidential manner. A user deposits a fixed amount of Ethereum into their heiswap smart contract, waits until there are enough participants in the pool, then they can withdraw their ETH from the smart contract. However, it's currently only able to mask the line between senders and their corresponding recipients and requires participants to send ETH in fixed denominations.
Uniswap.exchange has made many improvements: 1) Fixed all known outstanding bugs 2) Slippage warning to prevent bad trades 3) Better account flow 4) Click to see inverted exchange rate 5) Switch between pages using arrow keys 6) Site loads faster. Also, Uniswap SDK is in beta! It simplifies the process of integrating uniswap into applications.
Multis, a "cryptobank for companies", provides a simple interface for your distributed team to access, manage, and use your company's crypto. They've recently integrated Compound to their multi-signature wallet which allows crypto-native companies to earn interest on idle crypto, like DAI and BAT. Additionally, participants can now deposit cryptocurrency into their account (for your company or DAO) with debit/credit cards using MoonPay. The Multis team is currently building a new feature for allowances, where any of your company's users will be able to spend up to a certain amount of crypto from Multis without requiring owners' confirmations.
Accept one-time or subscription payments in ETH, DAI, or any ERC-20 token with Groundhog. They are a co-author of ERC-1337, which is the standard for recurring subscription payments on Ethereum. Groundhog was also a founding member of the Gas Station Network Alliance, where relayers act like gas station attendants giving users gas as they need it.
Imagine being able to get your salary paid by the minute! With Sablier, income streaming is now a reality. You can earn $DAI per minute of work. This presents an untapped opportunity in DeFi, enabling all sorts of experiments and use cases. After receiving a bunch of constructive criticism, the Sablier crew has announced a plan for the next version of Sablier: 1) built for continuous salaries 2) integrated with Compound 3) designed with great care for user experience.
If you are interested in playing with current version of Sablier, you can play with the beta version at beta.sablier.app.
//MESH NETWORKS//
Shell and Sumitomo Corporation have made a big bet on a distributed energy future by investing in LO3 Energy to develop a blockchain-based community energy platform.The funding will go towards supporting their drive towards commercializing blockchain-enabled community energy networks. LO3 enables integration of distributed renewable energy sources (DERs) into local energy networks. It was pioneered with the Brooklyn Microgrid.
Althea is launching the Althea Blockchain with Cosmos! Ethereum wasn't a good fit for Althea due to fluctuating gas prices, which would destabilize their physical networks. The Althea Blockchain will be proof of stake. They are currently looking for more validators to participate in their testnet. When mainnet goes live, transaction fees from the subscribers' routers will be paid out to the validators, as well as, go towards the development of the protocol.
Community organizers have on-boarded the newest Altheahood Forest Grove, Oregon. If you are interested in starting your own local Altheahood, read this guide on getting started with community outreach. In the latest "Building a Net Generation ISP" video, Justin Kilpatrick and Deborah Simpier talk about Althea's multi-connection handling. In a recent Digital Trends article, Deborah makes a case for Althea "In rural areas, community and municipal networks can share costs more evenly and have better access to local resources".
//PODCASTS//
Robert Leshner: Compound - An Automated Money Market for Ethereum Tokens
Saving All the Chains, with Chainsafe
InstaDapp: A Bridge to Decentralized Finance
Truffle: Making Ethereum Sweet with Tim Coulter
Zexe: Decentralized Private Computation with Pratyush Mishra
Farbood Nivi, Co-Founder & CEO, Coinmine: The Future of Consumer Mining
Augur: A Conversation on Crypto User Acquisition with Joey Krug
Humanity DAO with Rich McAteer
//DIS MOMENT//
No.3 https://twitter.com/i/moments/1150488847819710465
No.2 https://twitter.com/i/moments/1146098208466178048
No.1 https://twitter.com/i/moments/1135585470832893953
For more moments and tweets, follow DIS Weekly on Twitter at @DISWeekly.
Powered by the Pocket Network team.