DIS Weekly #20
DIS Weekly covers developments in the space of decentralized infrastructure solutions.
If you'd like to submit your project updates or podcast episodes for the next round of DIS Weekly / DIS Moment, email us at dis@pokt.network or DM us at @DISweekly.
//NODE INFRASTRUCTURE//
DAppNode is a plug n' play full-node solution focusing on increased privacy and user control. Currently supporting Ethereum, Bitcoin, and Monero.
The End of FAANG DevCon V Talk by Pol Bordas has been published on the Ethereum Foundation's YouTube channel.
DAppNode released a new update, the Wizard feature. Packages are now able to add a setup wizard to make it even simpler for users to configure any package. The first package to integrate a wizard is the Trustlines Foundation!
Infura is an API suite that provides access over HTTPS and WebSockets to the Ethereum and IPFS networks.
Infura has open-sourced two internal tools to help developers interact more fluidly with IPFS. These tools for running IPFS nodes are the Go-ipfs-datadog-plugin and Ipfs-pump. The plugin configures the Datadog tracer to collect traces and relay them to the agent. Ipfs-pump enables the ability to migrate significant amounts of data both quickly and reliably.
Pocket is a trustless API layer, providing easy access to any blockchain.
In partnership with IOV Labs Innovation Studio, Monday Capital announced the completion of the first round of investments into its Ecosystem Fund, which includes Vega, Multis, and Pocket.
Pocket published their take on incentive alignments for the sustainable decentralization of ICON.
//WEB3 TOOLBOX//
Terminal is a Web3 developer platform for building, testing, and monitoring decentralized applications.
Terminal released their latest feature: a DApp specific transaction feed! This helps with managing and monitoring your DApp. It captures all the data across your integrations, pre-populating it in the transaction feed and, from there going forward, automatically populates all transactions from your DApp. By using custom filters, you'll be able to gain deeper insights and see specific information in relation to your DApp such as Wallet Providers, Networks, and Layer 2 Solutions data.
If you haven't set up Terminal for monitoring your DApp, check out this sneak peek into their platform:
//WALLETS//
MEW is a free, client-side interface for users to interact with the Ethereum blockchain.
My Ether Wallet partners with Rivet, a blockchain infrastructure service created by OpenRelay, to provide support for its Ethereum infrastructure needs.
Keycard is a new type of smartcard built with an open API for simple integration with crypto wallets and hardware.
The previous subdomain for Keycard now points to a brand new domain name at keycard.tech!
Andrei Mironov, Designer at Status, has been working on a new NFC card smartphone interaction flow, made with Framer and Figma, for Keycard on the Status application. He posted it on dribble, so you can check it out.
Metamask is a Web3 bridge that allows users to run Ethereum DApps in your browser without running a full ethereum node. Also, now available on mobile.
Metamask released v7.6.0 of the MetaMask extension and v0.2.11 of the MetaMask mobile application. This adds support for the Multi-Collateral DAI.
The MetaMask team has decided to postpone breaking changes to the MetaMask Inpage Provider until January 13th, 2020. However, developers can start preparing their sites today, November 25th.
If you are curious about MetaMask Snaps, watch the first episode of "Snaps Talk"! Dan Finlay and Erik Marks chat with Joel Thorstensson of 3Box about his experience building a privacy-preserving profile snap.
Gnosis Safe is an open-source, non-custodial smart contract wallet.
Gnosis Safe is now WalletConnect compatible. Check out this short demo:
They are also giving out upwards of 3k USD in funding for other WalletConnect integrations!
//DEFI//
Maker DAO is a decentralized community of MKR token holders governing the Maker Protocol, that smart contracts that power DAI, which is a stable, decentralized currency.
Multi-Collateral DAI went live on November 18th at 16:00 UTC! Single Collateral DAI holders can now migrate their SAI to DAI.
The current collateral types offered in MCD are ETH and BAT. With MKR voter approval, basically, any tokenized asset could be offered as collateral in the future.
Alongside the launch of Multi-Collateral DAI, comes the all-in-one decentralized finance Oasis hub. This brings together Oasis Trade with the new Oasis Borrow and Oasis Save into a single platform. Oasis Borrow functions as the portal users access to secure collateral assets in Vaults, previously Collateralized Debt Positions (CDPs), to generate DAI. On the other hand, Oasis Save operates as the interface through which users will access the DAI Savings Rate (DSR) to earn interest on locked Multi-Collateral DAI.
Local Cryptos is a privacy-focused, peer-to-peer, cryptocurrency marketplace offering a non-custodial escrow system and end-to-end encrypted messaging.
LocalEthereum has rebranded into LocalCryptos. This reflects their decision to add support for more cryptocurrencies, starting with Bitcoin. Since they announced the rebrand, Bitcoin has grown to account for 14% of trades and volume on LocalCryptos with 165 P2P BTC exchanges totaling $48k USD.
They've also noticed an increase in the number of daily signups by 500%! To make the transition from LocalBitcoins even easier for traders, LocalCryptos enabled the ability to import their hard-earned reputation so they don't have to start all over again.
//MESH NETWORKS//
The Helium Hotspot is a new wireless device that uses LongFi to enable anyone to earn Helium tokens in exchange for building a wireless network in their city to power IoT devices.
The Helium Hotspot earned a spot in the TIME's Best Inventions of 2019 after only 6 months post-launch!
For developers interested in learning how to transfer data on "The People's Network" with LongFi, check out Helium's first developer webinar:
LO3 Energy is developing blockchain-based innovations to revolutionize how energy can be generated, stored, bought, sold, and used all at the distributed local level.
LO3 Energy announced that they're launching the first commercial US marketplace for locally produced clean energy with Green Mountain Power (GMP). This enables Vermont utility customers to trade renewable energy credits on the LO3 Blockchain. The app Vermont Green for GMP customers connects local businesses with home solar farmers willing to leverage excess energy production into an extra stream of income. It will be available starting on December 3rd.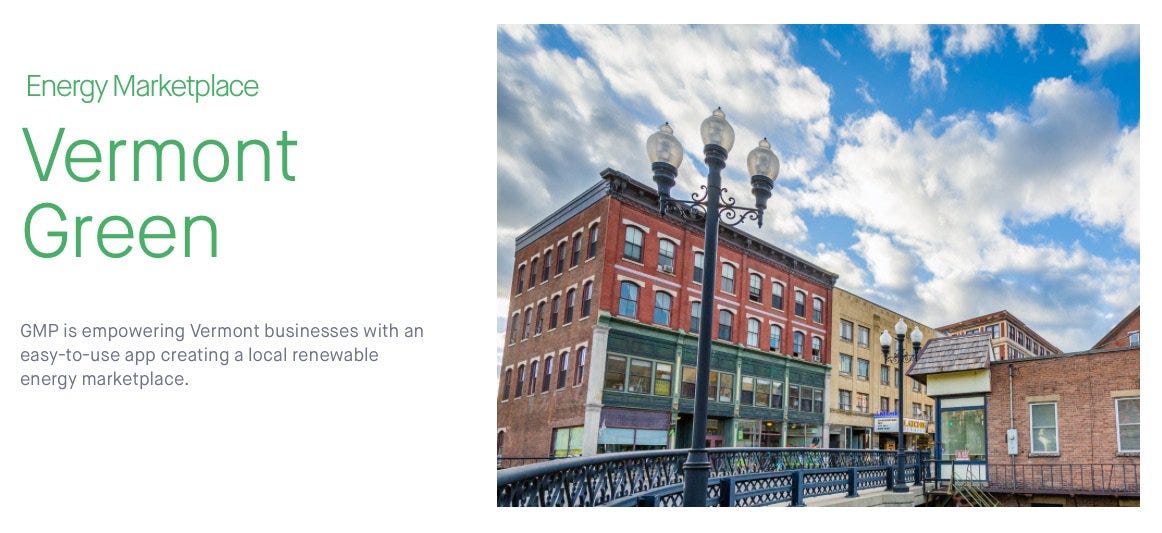 GMP aims to become a 100% renewable energy provider by 2030. They already have a 90% carbon-free and 60% renewable energy supply. Local energy markets utilizing local distributed energy resources will help them reach that goal.
//DOGR TECH//
MetaCartel is a DAO with the mission of funding early-stage DApp experimentations on the application layer.
The MetaCartel published an article that serves as an update on the progress made in Cohort 0, which includes the projects of the first two waves of funding. These projects are rDAI, Project Howl (PokéMol + DAOHaus), Orochi DAO, Mintbase, DAOSaka, Pepper4d, and MetaGame. Together, they have received a total of $27,500 USD!
Aragon is a platform that enables the quick deployment of global, bureaucracy-free futuristic organizations, companies, and communities.
Aragon announced the release of its first major version of aragonUI 1.0.
Around February 2020, they'll remove the deprecated props and components predating aragonUI 1.0. Aragon also shared other things that are expected to come soon:
A Babel Plugin for a better developer experience

Unified aragonDS and aragonUI documentation

Package size reduction

Provide a way to connect aragonAPI to aragonUI components with a minimal amount of boilerplate
Patricia Davilla put together a Twitter thread on the Aragon Court to share early work in progress with the Aragon community, as well as, get their feedback.
Gitcoin provides crowdfunding and freelance developers for your software projects.
On November 20th, Gitcoin deployed a new version of its website.
Gitcoin announced that the next virtual hackathon Global Communities launches on December 2nd, with lead sponsor ConsenSys Labs. Global Communities hackathon is meant to celebrate the Web3 movement around the world with meaningful prizes, #BUIDL events, and community mentorship and judging.
//PODCASTS//
Launching DAI with Mariano Conti
Will Villanueva: Ethereum 2.0 Phase 2 Deep Dive
Bitmain - Rising to Mining Dominance
Exploring Kusama, the Canary Chaos Network
MakerDAO: What's the 10 Year Vision? | Rune Christensen of Maker Foundation
Creating Crypto Product Engineers with Austin Griffith
Ethermint: EVM on Cosmos with Chainsafe's Austin Abell and Gregory Markou
Optimistic Rollups - John Adler
Secure Autonomous Earning Through Staking and Defi - with Tim Ogilvie of Staked
//DIS MOMENT//
No. 13 https://twitter.com/i/moments/1174730106436239360
No. 14 https://twitter.com/i/moments/1177605005584539651
No. 15 https://twitter.com/i/moments/1179809079709097984
No. 16 https://twitter.com/i/moments/1182671105754128385
No. 17 https://twitter.com/i/moments/1184138794993442823
No. 18 https://twitter.com/i/moments/1187750326151143424
No. 19 https://twitter.com/i/moments/1189971717919260672
No. 20 https://twitter.com/i/moments/1192888260311355398
No. 21 https://twitter.com/i/moments/1195357142393507840
No. 22 https://twitter.com/i/moments/1197923209640894465
For more moments and tweets, follow DIS Weekly on Twitter at @DISWeekly.
Powered by the Pocket Network team. By signing up for the newsletter you are also opting in to receiving email updates from Pocket Network (currently only 1 per month). No spam ever.