DIS Weekly #22
DIS Weekly covers developments in the space of decentralized infrastructure solutions.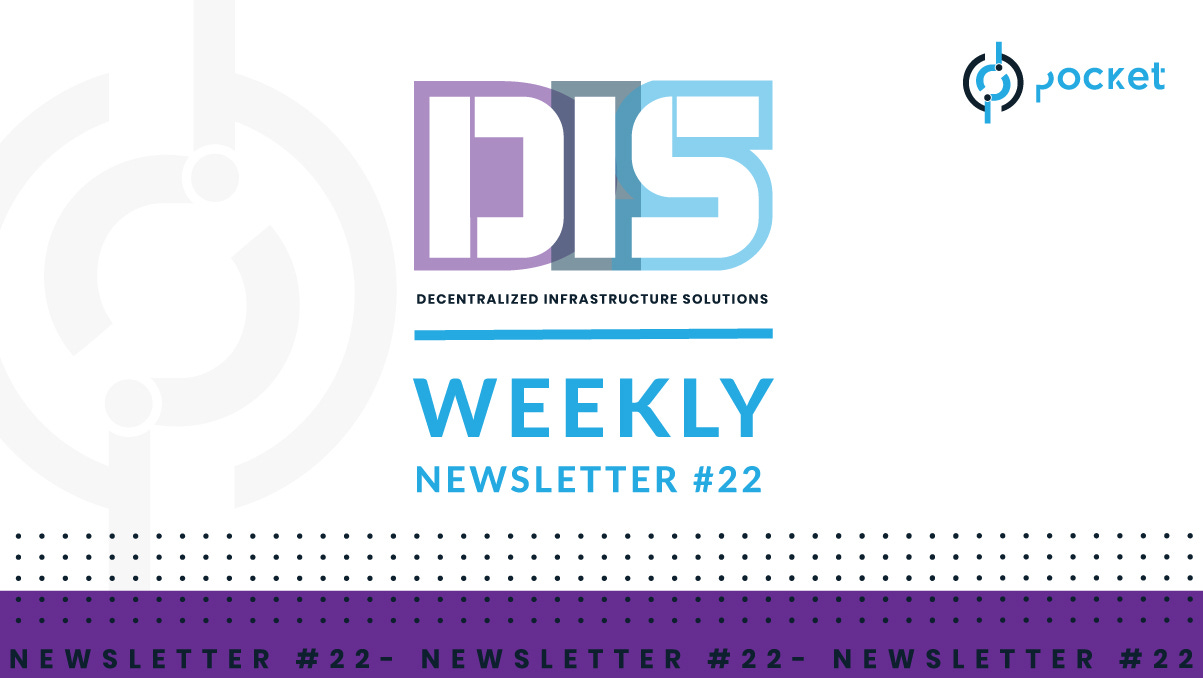 If you'd like to submit your project updates or podcast episodes for the next round of DIS Weekly / DIS Moment, email us at dis@pokt.network or DM us at @DISweekly.
//NODE INFRASTRUCTURE//
DAppNode is a plug n' play full-node solution focusing on increased privacy and user control. Currently supporting Ethereum, Bitcoin, Monero, IPFS, and more
On December 5th, Parity Technologies made an urgent release Parity Ethereum v2.5.11-stable and v2.6.6-beta. These are the latest versions of Parity Ethereum that are Istanbul-ready. Nodlers were prepared for this emergency Parity update. If they had auto-updates enabled, then it would've been automatically updated to the latest version of Parity.
DAppNode built a new DNP called IPFS Pinner to solve persistence and propagation problems. This lets you and your peers set up a cluster of IPFS nodes that automatically pin the same content. Check out the IPFS Pinner Package Demo:
QuikNode provides users with a dedicated node and environment, unlike shared infrastructure and API gateways.
QuikNode introduced its newest tool: QuikNode API.
QuikNode API is a 100% free tier. This gives developers immediate high-performance access to the Ethereum mainnet, so they can start building or testing their Web3 DApp. Alongside QuikNode Boost, an intelligent layer that accelerates calls by up to 300%, together they form the seeds for a Blockchain Developer Cloud.
The Serverless Supercloud. Akash's network enables a permissionless, open, and secure marketplace for unused compute cycles.
On December 4th, Akash CEO Greg Osuri unveiled the Akash Supermini at IFX 2019, a conference about the craft and culture of infrastructure. The Akash SuperMini is a plug n' play, portable server that makes it easy to run a node in the Akash Network.
By offering computational services in Akash's P2P cloud marketplace, node runners will be able to earn either BTC, ATOM, ETH, or AKT. You can reserve an Akash Supermini today for a $10 USD deposit.
//WEB3 TOOLBOX//
Terminal is a Web3 developer platform for building, testing, and monitoring decentralized applications.
Terminal recently added one new feature and one new integration.
The feature release is a DApp specific user feed. This surfaces DApp level user analytics, which can be used to inform design decisions with a data-driven approach. A core part of the Terminal monitoring platform, the user page offers detailed insights into every user that interacts with your DApp. They've even incorporated ENS into their platform, so you'll be able to see an addresses ENS name.
The integration release is a full integration with SKALE network, a high-throughput layer 2 solution. This enables developers to view application, user, and transaction specific activity feeds related to their SKALE DApp all in one place.
Wyre is an API for providing fiat on/off ramps in crypto-applications.
Last week, Wyre introduced a new service: Cashingout.me. This lets anyone accept cryptocurrency through a readable ENS name ([yourname].cashingout.eth) that auto-liquidates the tokens and initiates a transfer to a bank account via ACH. It's currently only available for US residents with US-based bank accounts. So far, the CashingOut.Me service only supports ETH, DAI, and USDC.
Essentially, it is a blockchain address for your bank account
APIs for identity, profiles, storage, messaging, and comments.
3Box released Edit Profile, a new 3Box plugin. It's a simple drop-in React component that provides web developers with UI and logic for allowing users to create and/or edit their profiles from within their Ethereum applications. This also provides developers a way to create app-specific profiles.
Also, they've released identity-wallet-js v1.0, which includes improved logic for linking multiple blockchain accounts, the use of js-sha256 instead of crypto dependency, and minor bug fixes.
//WALLETS//
MEW is a free, client-side interface for users to interact with the Ethereum blockchain.
MEW announced a brand new mobile wallet application for Android. It's currently in beta, so only use small amounts of crypto. They're also looking to hear your feedback and reports on any bugs you may find.
The WeChat of the Web3 World. It's a SuperD/app that houses all your favorite applications, even non-crypto like duck duck go, as mini-dapps.
Alice has released its latest test version before hitting the Apple App Store. Mark Pereira shares a UX easter egg, pinning apps (like Twitter) and DApps to the home screen.
Mosendo is a DeFi-powered wallet that lets users send money to anyone, anywhere, and with links!
Mosendo introduced The Gasless Wallet for multi-collateral DAI. This allows users to send DAI without any ETH for gas. Gasless is a non-custodial web wallet for DAI where transaction fees are paid in DAI by leveraging a new feature in the MCD DAI token contract.
Nour Hariday explains how it all works in this video:
They've also made it easy for developers to use the Mosendo DAI relayer with Gasless.js.
//DEFI//
SODA (Synthetic Oracle-Denominated Asset) is a protocol and DAO for lending and borrowing crypto-assets using Bitcoin as collateral.
SODA releases version 2.0!
SODA v2.0 contains eleven radical improvements over the previous version:
Borrow DAI in one step (Deposit BTC as collateral → Receive loan)

Borrowing rates on SODA are lower than the market-weighted average (3.30% APR)

0% transaction fees (SODA pays for all load withdrawals, repayments, and oracle requests)

Flexible over-collateralization (140% to 400%)

Unlimited loan period

Interest is accrued daily

Unlimited number of active loans

Deposit BTC collateral from any exchange, wallet, hardware wallet, etc

Withdraw loans to any Ethereum-wallet for free

Signing up with an email (no KYC)

Mobile-friendly interfaces with full functionality
CHAI is an ERC20 token that lets you earn interest on DAI without requiring it to be locked in the DSR. DAI is ready for brewing in the CHAI contract!
On December 1st, deployed the Chai.sol contract to the Ethereum mainnet. CHAI is an ERC20 token wrapper over the DAI Saving Rate that lets users earn interest on DAI without requiring it to be locked up.
The Coinbase Card provides an easy way to spend your crypto.
Coinbase launched full support for DAI. This means Coinbase users can now buy things with DAI, the first stablecoin available on the Coinbase Card. It's not available in the US, yet.
Saturn Network is an uncensorable decentralized exchange protocol building a DEX in every blockchain.
Saturn Network announced a partnership with Pocket Network. They'll integrate Pocket's decentralized relay network into their ecosystem as a preferred node provider for Ethereum. By integrating Pocket, they would be safeguarding their users and future operations against the risks of full-node centralization.
According to the Saturn Exchange November Summary, they saw 2468 completed trades, 1766 orders created, $64,872 in trading volume, 297 new users, and 37 new tokens self-listed.
//DOGR 👹 TECH//
Democracy Earth is a non-profit building open-source and censorship-resistant democracies via token-based community participation that can be deployed anywhere with an internet connection.
Democracy Earth announced the release of new governance software: 0.7 Moloch-compatible Sovereign. This is the first step for Democracy Earth to transform Sovereign into a DAO Browser. The (read-only version) platform has been adapted to display events from MolochDAO smart contracts and MolochDAO forks. In this new release, you'll be able to:
See all listed proposals in a DAO

Check ongoing results

Explore the activity of every address interacting with the DAO

Filter proposals by the current period

Access it through Mobile or Desktop
//BLOCKCHAIN GAMES//
SkyWeaver is a trading card game from another dimension.
Last week, SkyWeaver pushed a new game update Patch #27. This update features new icons for Prisms and Unit triggers, a revamped downloader, and 30 new cards.
//PODCASTS//
Orochi DAO with Makoto Inoue and James Waugh
Debating Lightning and Oracles with John Carvalho
MME - The Law Firm Behind the Rise of Switzerland's CryptoValley
IPFS, Libp2p, & Filecoin with Juan Benet
Is China Cracking Down on Crypto (Again)? | Asia Series w/ Mable Jiang
Digital Money Takeover, with Kong Cash
Building a Custom Blockchain with Substrate
//DIS MOMENT//
No. 15 https://twitter.com/i/moments/1179809079709097984
No. 16 https://twitter.com/i/moments/1182671105754128385
No. 17 https://twitter.com/i/moments/1184138794993442823
No. 18 https://twitter.com/i/moments/1187750326151143424
No. 19 https://twitter.com/i/moments/1189971717919260672
No. 20 https://twitter.com/i/moments/1192888260311355398
No. 21 https://twitter.com/i/moments/1195357142393507840
No. 22 https://twitter.com/i/moments/1197923209640894465
No. 23 https://twitter.com/i/moments/1200513792209240065
No. 24 https://twitter.com/i/moments/1203118761567510529
For more moments and tweets, follow DIS Weekly on Twitter at @DISWeekly.
Powered by the Pocket Network team. By signing up for the newsletter you are also opting into receiving email updates from Pocket Network (currently only 1 per month). No spam ever.