DIS Weekly #24
DIS Weekly covers developments in the space of decentralized infrastructure solutions.
If you'd like to submit your project updates or podcast episodes for the next round of DIS Weekly / DIS Moment, email us at dis@pokt.network or DM us at @DISweekly.
//NODE INFRASTRUCTURE//
DAppNode is a plug n' play full-node solution focusing on increased privacy and user control. Currently supporting Ethereum, Bitcoin, Monero, IPFS, and more.
DAppNode users can upgrade Ethereum clients to Geth v1.9.9 and Parity v2.5.12, which are compatible with Muir Glacier, ahead of the hard fork expected to fall on January 6th, 2020. If nodlers already have auto-updates turned on, they don't need to worry about it.
Pol Lanski shares how upgrading clients can be burdensome and the asynchronicity around coordination required for hard forks places more work onto mostly volunteer node operators, but points out that DAppNode is geared to fix this problem.
Check out the rest of his Twitter thread on the necessity of a "node manager layer".
Avado is a pre-configured appliance that provides Web3 access and a personal home server that earns passive income through smart mining.
The Nethermind Ethereum package has been added to AVADO. This is an effort to support the diversity of Ethereum clients. It allows node operators to run this super-fast client on their hardware.
AVADO built a Filecoin package so node operators can participate in the testnet, familiarize themselves with the project, and prepare for potential rewards by renting out their extra disk space.
Storj is a decentralized cloud storage protocol that enables individuals and organizations to host a node to earn passive revenue stream from unused disk space. Storj Cloud Storage is now called Tardigrade.
Storj has begun enabling node operators to run multiple storage nodes on the Storj Network using the same email address, physical location, and IP address. This allows Storage Node Operators to leverage more of their unused hardware and further add storage capacity to the network.
A Blockchain developer platform powered by enterprise-grade infrastructure.
Alchemy raised $15 million through a Series A funding round led by Panera Capital and joined by Standford University, Coinbase, Samsung, SignalFire, as well as, angel investors like John Hennessy, Reid Hoffman, and Jerry Yang.
//LAYER 2//
Celer Network is a leading layer-2 scaling platform that enables fast, easy, and secure off-chain transactions for not only payment transactions, but also generalized off-chain smart contract.
Celer Network introduced its Celer Web Light Client SDK, which is a Typescript / Javascript library implementing a subset of the Celer Network off-chain messaging protocol. It runs entirely in a browser or a Webview environment. They've also built the Celer Web Wallet as a demo application of the SDK. Both the Celer Web Light Client SDK and Web Wallet are open-source.
//WEB3 TOOLBOX//
Terminal is a Web3 developer platform for building, testing, and monitoring decentralized applications.
On December 19th, Terminal announced the release of its newest feature: a User Analytics Page. It provides a detailed aggregate view of all of a DApp's specific user base alongside other relevant details. This gives developers unparalleled insight into their decentralized application's usage.
The following day, Terminal announced the integration of Matic Network. Since the Matic Network is composed of a diverse array of high throughput, modified PoS Plasma sidechains building a block explorer interface that easily organizes information for end-users posed a difficult challenge. Terminal's DApp Monitoring Platform removes the noise of empty blocks and collects only relevant information. It allows developers to automatically surface DApp specific Matic Network activity in a convenient, comprehensible, and easy-to-navigate manner.
A mixer for non-custodial anonymous transactions on Ethereum.
Tornado Cash released version 2, which contains several new major features! This includes support for ERC20 tokens, higher deposit limits for ETH, decentralized relayers, and ENS URLs for relayers.
With the support of ERC20 tokens, Tornado Cash has added it's first token DAI. It plans to add both USDT and USDC soon. In the spirit of decentralization, Tornado Cash enabled support for custom relayer addresses so that anyone can run a Tornado relayer.
Unlock is a protocol for memberships built on blockchain.
Last week, Unlock announced that Forbes is currently offering the ability to unlock an ad-free experience on its site through experimenting with Unlock. Forbes deployed 2 locks: 1) a month-long ad-free experience 2) a week-long ad-free experience. Users can purchase a key with a crypto wallet like Opera, MetaMask, or Coinbase Wallet. Once the transaction has been confirmed, users will receive an NFT that represents their membership.
To celebrate this momentous occasion (moving towards a membership-driven economy and away from an attention-stealing economy), Unlock is linkdropping 100 memberships keys to Forbes ads-free lock. They've partnered with Linkdrop to give away more NFTs through generating links, which include a key to a Forbes ads-free lock. This a peek into a great crypto-experience for "mainstream users".
//WALLETS//
Gnosis Safe is an open-source, non-custodial smart contract wallet.
Gnosis Safe publicly launched the successor to the original Gnosis multi-signature wallet: Gnosis Safe Multisig.
Gnosis Safe Multisig has many of the desired features of a forward-looking, user-orientated smart wallet, such as:
Quick setup

Signing keys with wallets Fortmatic, Portis, Torus, and Metamask

Incoming transactions

Fiat balances

In-app support chat

Onboarding tour

Improved transaction list

UX improvements
Users should feel secure using Gnosis Safe Multisig since it possesses audited and formally verified smart contracts. They are putting their money where their code is. Gnosis moved an additional 10,000 ETH to the Gnosis Safe contracts with the plan of moving an additional 10,000 ETH every month until all of their company's crypto-funds are stored in there.
Argent is an easy-to-use, mobile, smart wallet for Ethereum apps and tokens.
Argent introduced the Argent Security Centre. It provides users an extra level of security and a way to recover an Argent wallet with a Guardian (i.e. non-Argent wallets). A Guardian is an account on Ethereum that a user permits to help recover a wallet and protect them from attacks. The Argent Security Centre helps users use MetaMask, Ledger, and Trezor Guardians. This gives users more control and flexibility when recovering a wallet without a seed phrase, locking or unlocking it, approving transfers exceeding a daily spend limit, and adding a guardian.
//DEFI//
Roll is blockchain infrastructure for social money. It provides content creators with the means to mint branded digital tokens and launch a social money economy.
Roll has forked the UniSwap frontend to build a social money exchange. It will begin listing social money tokens in the next coming weeks, starting with $HUE, created by a blockchain-based artist, as the first social money token.
🎉 Hello HUEniswap! I'm thrilled to announce that $HUE has been added to the new Roll Social Money Exchange powered by Uniswap. You can now swap between HUE, ETH, MBC, DAI and more! Visit
danky.art/blog/hue-unisw…
to learn about this milestone and earn some HUE.
#SocialMoney
#DeFi
R
PoolTogether is a no-loss, audited savings game powered by ethereum.
Last Friday, PoolTogether launched a new pool with $150,000 in sponsored Multi-collateral DAI. They've made it easy to upgrade from the SAI pool to the DAI pool using one transaction without leaving the application.
The SAI pool will continue to run and award weekly prizes, but users will no longer be able to deposit new SAI into the pool.
Pool Together has also enabled users to receive emails when prizes are drawn, which makes it easy for winners to be notified of their DAI winnings.
//DOGR 👹 TECH//
Parity develops open-source software for building the decentralized web with Polkadot, Parity Substrate, Parity Signer, Parity Ethereum, and more.
Parity Technologies released Parity Ethereum v2.5.12-stable and v2.6.7-beta, which includes Muir Glacier support for the next Ethereum hard fork.
Parity announced they're planning to move Parity Ethereum to a DAO ownership and maintainer model under the project name OpenEthereum. They hope this model will foster cross-organization collaboration to ensure the codebase is maintained. It intends to transfer the license to the DAO, move the codebase to its own GitHub organization, and rename the Parity Ethereum client. Parity will be a member of the DAO, but as the transition takes place it will shift to a more explicit mentorship role.
DAOstack is a complete operating system for decentralized coordination built on the Ethereym blockchain.
DAostack Alchemy integrated 3Box. It gives individuals, in the DAO, the ability to see other member profiles, follow them, and scroll through personal feeds. This represents a step towards more engaging DAOs.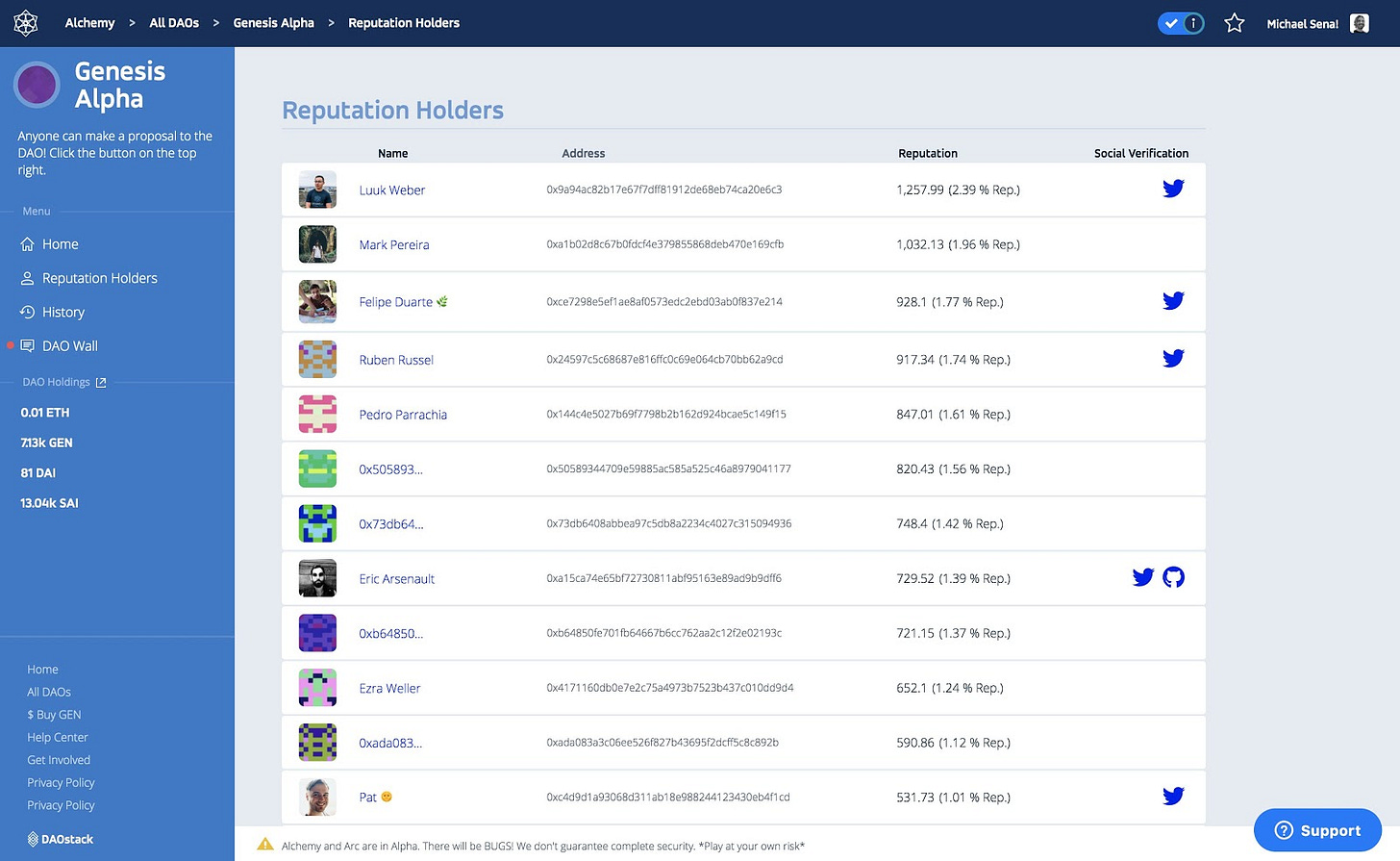 Gitcoin provides crowdfunding and freelance developers for your software projects.
Gitcoin announced the fourth round of Gitcoin Grants with two matching pools for both Tech and Community. Q1 CLR Match sets a record of $200k in radical funding towards Ethereum projects. The infrastructure pool contains $125,000 in matching funds, while the community pool has $75,000. Gitcoin Grants Round 4 uses donations to signal and quadratic funding to allocate the $200k matching pools. This next round will be open from January 6th, 2020 to January 21st, 2020.
If you are reading this and run an Ethereum project, submit your grant proposal to be considered by the community in Round 4.
//PODCASTS//
Exploring Binance USA, with Catherine Coley
Sia – Creating a P2P Marketplace for Data Storage to Disrupt the Cloud Industry
Catch up with Zaki Manian from Tendermint
MakerDAO Multi-Collateral Dai: Mariano Conti and Cyrus Younessi
Crypto Is Not for Mass Adoption: A Debate - Jill Carlson vs. Yaniv Tal
25 Crypto Mega Theses with Multicoin's Kyle Samani
//DIS MOMENT//
No. 17 https://twitter.com/i/moments/1184138794993442823
No. 18 https://twitter.com/i/moments/1187750326151143424
No. 19 https://twitter.com/i/moments/1189971717919260672
No. 20 https://twitter.com/i/moments/1192888260311355398
No. 21 https://twitter.com/i/moments/1195357142393507840
No. 22 https://twitter.com/i/moments/1197923209640894465
No. 23 https://twitter.com/i/moments/1200513792209240065
No. 24 https://twitter.com/i/moments/1203118761567510529
No. 25 https://twitter.com/i/events/1205607447899070465
No. 26 https://twitter.com/i/events/1208496142524264449
For more Twitter moments and tweets, follow DIS Weekly on Twitter at @DISWeekly.
Powered by the Pocket Network team. By signing up for the newsletter you are also opting into receiving email updates from Pocket Network (currently only 1 per month). No spam ever.