DIS Weekly #25
DIS Weekly covers developments in the space of decentralized infrastructure solutions.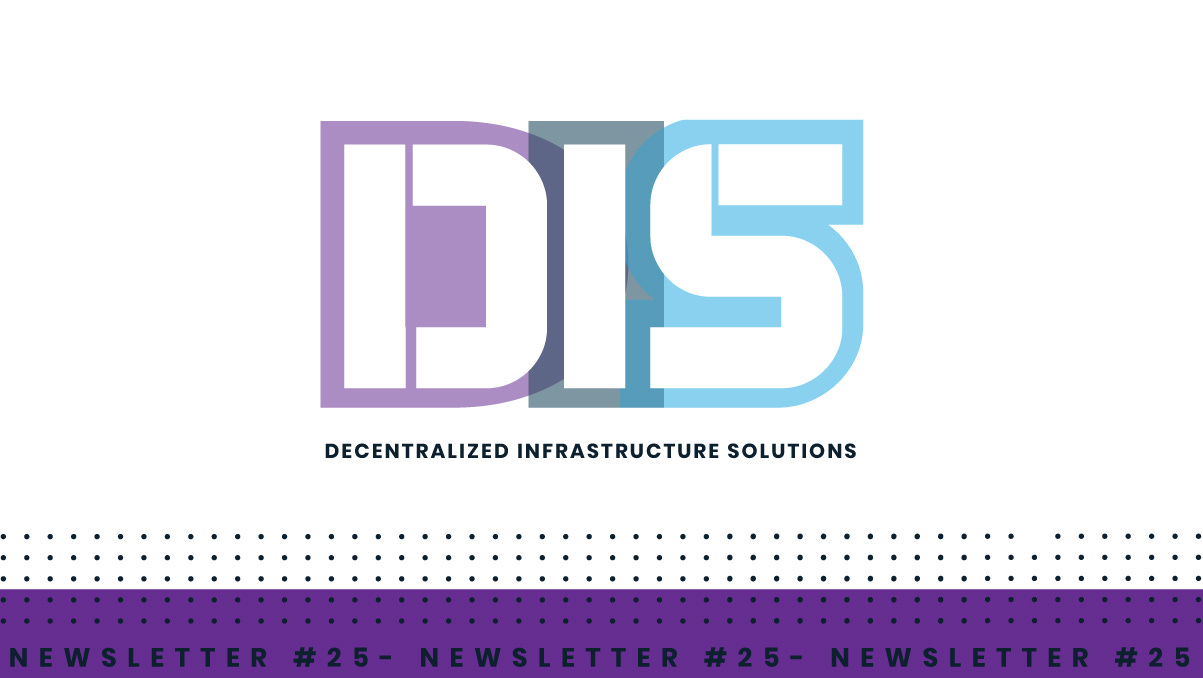 If you'd like to submit your project updates or podcast episodes for the next round of DIS Weekly / DIS Moment, email us at dis@pokt.network or DM us at @DISweekly.
//NODE INFRASTRUCTURE//
DAppNode is a plug n' play full-node solution focusing on increased privacy and user control. Currently supporting Ethereum, Bitcoin, Monero, IPFS, and more.
DAppNode adds the Nethermind package, another ETH client, to the installer weighing just under 70 GB. Also, due to some changes in the core packages the auto-updates feature has been deactivated. If you like the convenience of automatic updates, you'll need to update to the latest core version and reactivate it.
Storj Labs partners with DAppNode so that Nodlers can offer their unused hard drive space to a truly decentralized cloud storage solution and get paid for it. This represents a step towards breaking down the cloud cartel. Find out how much you can potentially earn from sharing your space by using Storj's Storage Node Earning Estimator.
A fast, simple plug n' play solution to run a Bitcoin and Lightning Node.
Due to a supplier delay and the holiday shipping slowdown, Casa Node 2 shipments have been delayed until mid-January. To mitigate this issue, they're offering Gold members who pre-ordered the Casa Node 2 an additional 3 months of subscription time.
//LAYER DOS//
xDAI is a stable-cryptocurrency that's pegged to the US Dollar, has super low transaction fees, and fast transaction times.
xDAI announced the migration of the xDAI TokenBridge has been completed. It supports both DAI and SAI. However, xDAI tokens can only be withdrawn in DAI.
With this upgrade, a new feature Alternative Receiver was added. This makes it possible to transfer tokens through the bridge to any account, whether on xDAI chain or Ethereum mainnet, with a single transaction.
//WEB3 TOOLBOX//
Linkdrop enables Web3 marketing campaigns to onboard everyday users.
Over the holidays, Linkdrop updated its dashboard to add support for Fortmatic, Portis, and WalletConnect. This gives users more options to easily create a Web3 marketing campaign using their favorite wallet.
A mixer for non-custodial anonymous transactions on Ethereum.
Tornado Cash added new tokens: cDAI, cUSDC, USDC, and USDT. This enables users to continue to earn interest on their deposited Compound Tokens. Tornado is bringing Satoshi's vision of a peer to peer digital version of anonymous cash into reality, with an added bonus of earning interest.
They've also increased the limit of ETH and USDT deposits to higher amounts at 100 and 100k respectively.
//WALLETS//
Metamask is a Web3 bridge that allows users to run Ethereum DApps in your browser without running a full ethereum node. Also, now available on mobile.
The Google Play App Store has suspended MetaMask's mobile Android client, citing mining software, which it doesn't have. To make matters worse, their appeal was rejected. However, support from Google Play Apps and Games replied they "have escalated your issue to the relevant team for further investigation" on Twitter after receiving pressure from the Web3 community. MetaMask has assured the community that if left banned, they'll be working on other ways of bringing their services to users walled in the Android platform.
In a somewhat similar case, Coinbase Wallet has bowed to the will of Apple. They're to remove the browser function of its wallet in order to comply with Apple's byzantine rules.
AirGap is an open-source project developing the new crypto wallet standard.
On December 20th, AirGap announced support for Cosmos was added with version 3.0 of AirGap Vault and AirGap Wallet. This gives users the ability to not only transact but also delegate their $ATOM and earn rewards completely offline.
//DEFI//
PoolTogether is a no-loss, audited savings game powered by ethereum.
PoolTogether has added support for ENS domain names. An ENS name will automatically appear on the prize detail page.
They've also added the ability to see the odds of each previous winner by tapping the prize amount and viewing the details of the prize.
Sablier, the protocol for real-time finance on Ethereum, provides a beautiful web interface for continuous, autonomous, and trustless payroll.
Sablier released two important resources: Sablier v1 Documentation and FAQ. These can be used to help developers build their own real-time DApp or integrate Sablier into an existing project.
Kevin Owocki, Founder of Gitcoin, has expressed interest in integrating Sablier into one of Gitcoin's services.
Set is a protocol that bundles crypto-assets into tokenized baskets that are programmed to automatically restructure based on trading logic.
Set announced the launch of a second cToken enabled set: ETH 20 Day Moving Average Crossover Yield Set (ETHMACOAPY).
This set operates similarly to the ETH 20 Day MA Crossover Set but supercharges it by swapping out USDC with an interest-bearing stablecoin cUSDC. So if the price of ETH falls below the 20-day simple moving average, ETHMACOAPY rebalances into cUSDC and earns interest on Compound, instead of rebalancing into vanilla USDC.
//DOGR 👹 TECH//
Aragon is a platform that enables the quick deployment of global, bureaucracy-free futuristic organizations, companies, and communities.
Just before the holidays, Aragon 0.8.6 was released. It shipped with a dark mode feature and an experimental in-app console, which gives DAO developers the ability to interact directly with their organization and its installed apps. Even if the functionality isn't accessible via a UI!
Gitcoin provides crowdfunding and freelance developers for your software projects.
Gitcoin calls out the need for more media grants before the start of Grants CLR Round 4 in less than a week and a half. The media pool has a matching fund of $75k.
Would you support a media grant for DIS Weekly? If so, we'll set one up before the round begins.
//dVPNs//
Orchid is a decentralized, market-based system for anonymous communication and virtual private networking, including a bandwidth market where node providers stake digital currency to advertise their services using the Ethereum blockchain and receive payment in OXT.
On December 16th, Orchid officially launched the first incentivized p2p privacy network. Two days later, Orchid's token OXT was listed on Coinbase, as well as, lessons were made available to learn and earn on Coinbase Earn.
For an overview of Orchid, watch this video:
//PODCASTS//
Value in Gods Unchained, with CTO Alex Connolly
Increasing Wallet Usability to Decrease the Anxiety of Self-Custody
Exploring use-cases for zkps and zk standards with QEDIT
Economics of Proof-of-Stake versus Proof-of-Work with Eric Wall
Why North Korea Is Interested in Cryptocurrency
Comparing the Internet's Past and Blockchain's Present, w/ SKALE Network's Jack O'Holleran
Sergi Delgado – Whatsat and Lightning
Helium's Amir Haleem: The Grand Vision of a Crypto Incentivized Mobile Network
//DIS MOMENT//
No. 18 https://twitter.com/i/moments/1187750326151143424
No. 19 https://twitter.com/i/moments/1189971717919260672
No. 20 https://twitter.com/i/moments/1192888260311355398
No. 21 https://twitter.com/i/moments/1195357142393507840
No. 22 https://twitter.com/i/moments/1197923209640894465
No. 23 https://twitter.com/i/moments/1200513792209240065
No. 24 https://twitter.com/i/moments/1203118761567510529
No. 25 https://twitter.com/i/events/1205607447899070465
No. 26 https://twitter.com/i/events/1208496142524264449
No. 27 https://twitter.com/i/events/1210651270555541505
For more Twitter moments and tweets, follow DIS Weekly on Twitter at @DISWeekly.
Powered by the Pocket Network team. By signing up for the newsletter you are also opting in to receiving email updates from Pocket Network (currently only 1 per month). No spam ever.