DIS Weekly #27
Thank you for donating to our media-based Gitcoin grant!
I'd like to take this opportunity to thank the first three contributors to the DIS Gitcoin Grant. A big thank you to Pol Lanski, Eduardo Antuña Díez, and Mikhail Dobrokhvalov. If you've enjoyed previous issues of DIS Weekly, please consider donating to our media grant.
DIS Weekly is moving to its own Substack and will start publishing on it from February 3rd onwards. If you'd like to continue receiving weekly newsletters, subscribe below.
//NODE INFRASTRUCTURE//
DAppNode is a plug n' play full-node solution focusing on increased privacy and user control. Currently supporting Ethereum, Bitcoin, and Monero.
DAppNode released a Tornado Cash DAppNode Package. This makes it super simple for nodlers to set up their own Tornado Cash relayer over TOR with just a few clicks.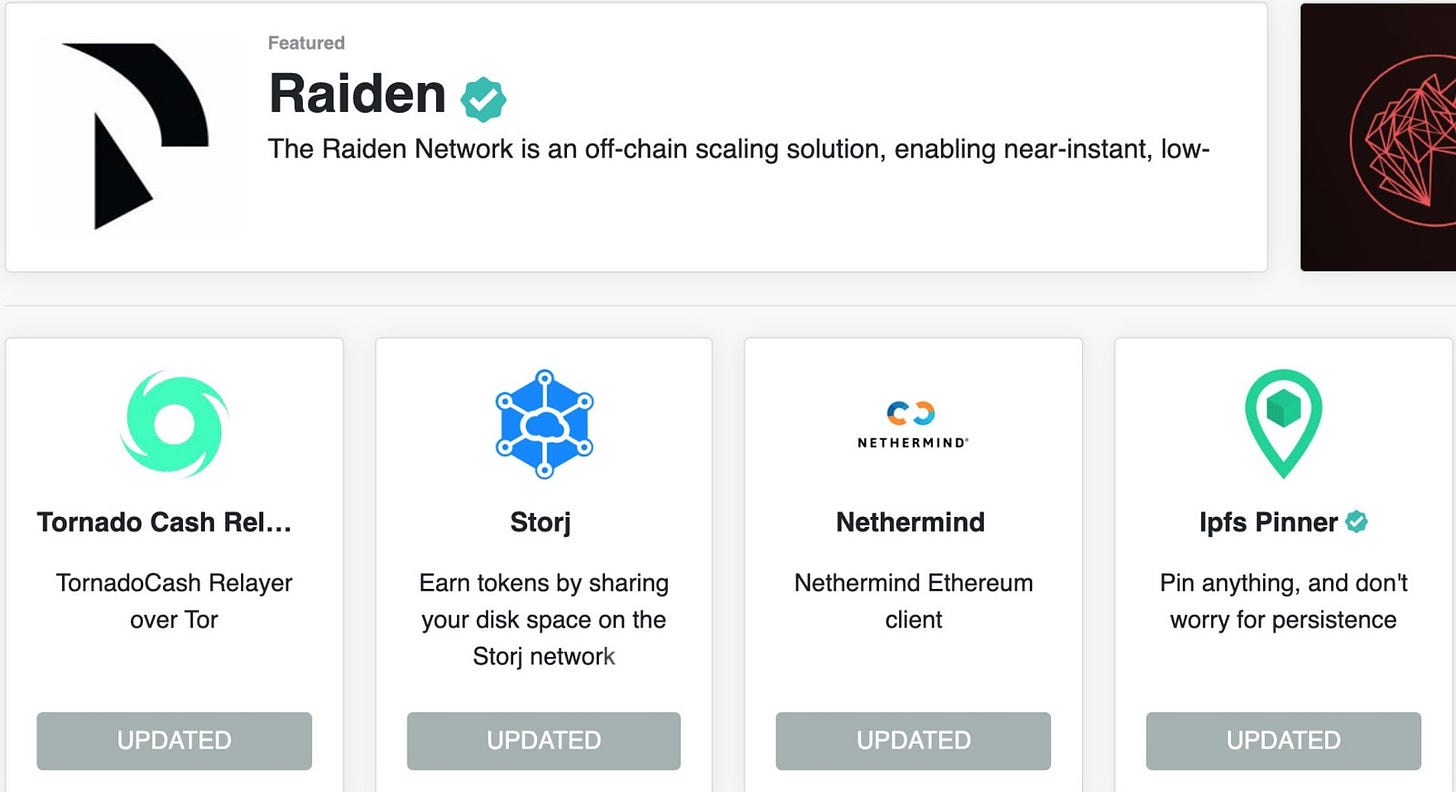 Avado is a pre-configured appliance that provides Web3 access and a personal home server that earns passive income through smart mining.
On January 9th, AVADO introduced IPFS node pooling to the AVADO RYO Cloud package. Node runners just need to toggle on the IPFS gateway. So far, eight AVADO nodes have joined the IPFS RYO Cloud, as well as, pinned and distributed TornadoCash.eth as first approved content.
//WEB3 TOOLBOX//
APIs for identity, profiles, storage, messaging, and comments.
3Box recently released a new version of 3Box that supports ENS!
This means users can now view their ENS names throughout Hub on their profile details, wall, and activity feed. It even enables users to search for profiles by ENS names!
In a later release, 3box plans to give users the ability to create a 3box ENS name like [your name].3box.eth.
Namestack provides the easiest way to buy ENS domains with a one-click registration and multiple payment options.
NameStack, a service to help users acquire and use blockchain names, launched on January 9th. Its first released product is a one-click ENS registration and configuration. Also, NameStack offers multiple payment options and an easy renewal process for ENS domain names.
In the background, they are working on a feature to enable users to sell subdomains. This would be a great, complimentary fundraising mechanism for DAOs and open communities. The multi-currency configuration is coming soon.
Would you buy a subdomain from DIS Weekly?
The first search engine for the dWeb (ENS+IPFS).
Today, the Almonit team launched the first version of their search engine for ENS and IPFS websites at almonit.eth/ or almonit.eth.link.
//WALLETS//
MEW is a free, client-side interface for users to interact with the Ethereum blockchain.
MyEtherWallet released MEW v5.2.9, which includes multiple bug fixes and a Russian language localization to the interface.
Acquired by MyCrypto, Ambo is a mobile wallet product focused on the interest of retail consumer buying into speculative assets.
On January 7th, Ambo announced the release of v1.22, the latest update for iOS.
It includes new features like Apple Pay with Wyre, domain sending through Unstoppable Domains and Ethereum Name Service, price data and analytics from Alethio, scam protection via CryptoScamDB, and more. An Android version is expected to come out sometime in early 2020.
Curious about what else is in store for Ambo this year? Read Ambo 2020!
//DEFI//
Maker DAO is a decentralized community of MKR token holders governing the Maker Protocol, that smart contracts that power DAI, which is a stable, decentralized currency.
Maker introduced a new landing page at makerdao.come/ecosystem. They'll be frequently updating this page to feature products made by the Maker Foundation as well as products made by the larger DeFi community.
They've also updated the DAI Savings Rate (DSR) in Oasis to enable viewers to see their savings grow in real-time.
Sablier, the protocol for real-time finance on Ethereum, provides a beautiful web interface for continuous, autonomous, and trustless payroll.
Since v1 of Sablier launched nearly over a month ago, they have had over 3,100 MAUs on their web interfaces, 234 created streams, $6300 in gross value streamed!
Sablier has been updated to include Fortmatic and Portis as login options. This lets users essentially stream money on Sablier from and to a phone number with Fortmatic, as well as, from and to a non-custodial wallet that uses a familiar email/password signup experience via Portis.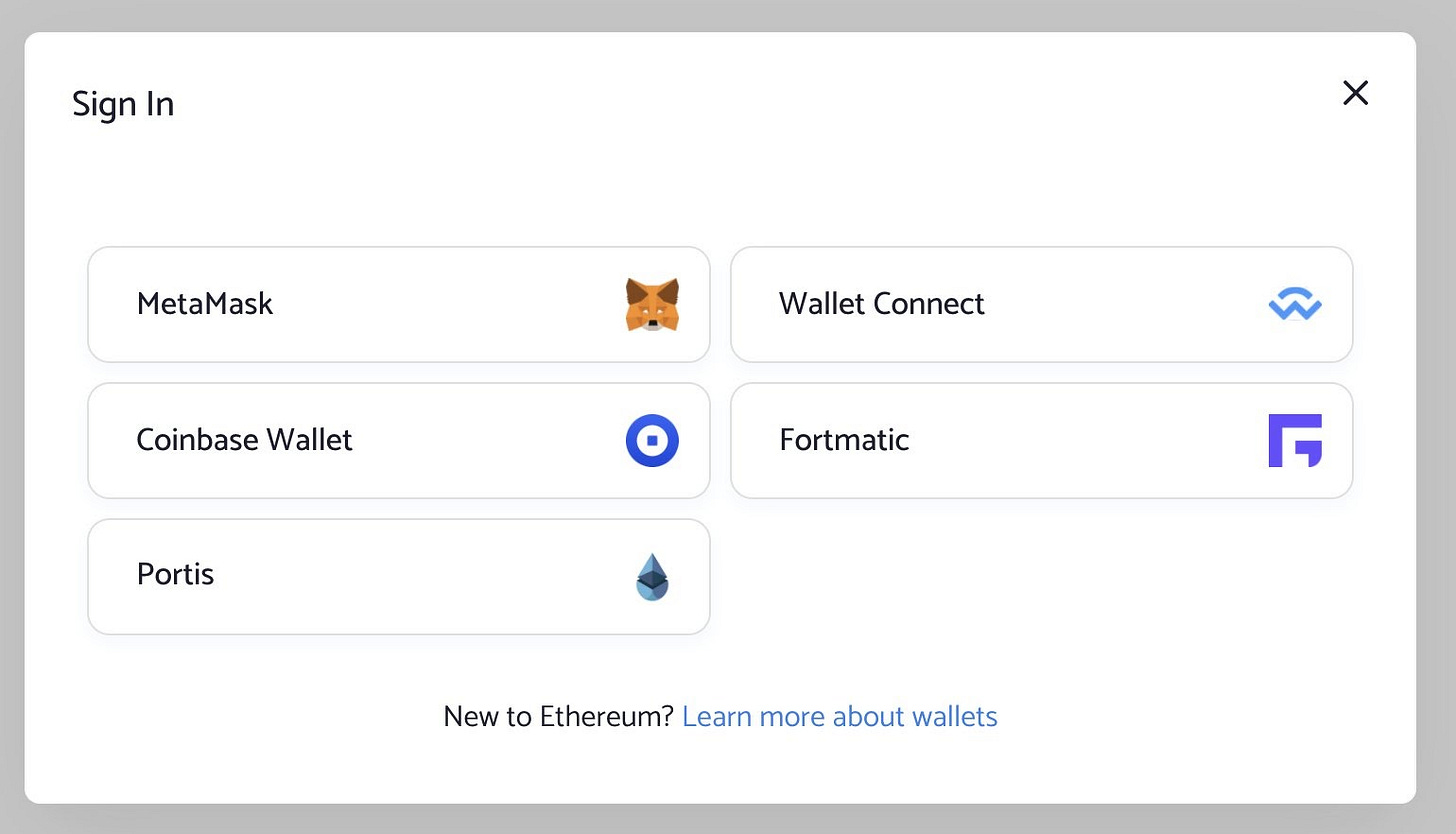 Sablier has funded two big bounties that incentivizes developers to build on top of their real-time finance protocol during the "Take Back The Web" Gitcoin virtual hackathon. The first bounty is for Streamed Atomic Swaps worth 1,000 DAI and the second bounty is Leave Inheritance to your Heirs, Web3 Styleworth 750 DAI.
Set is a protocol that bundles crypto-assets into tokenized baskets that are programmed to automatically restructure based on trading logic.
Set announced the launch of a third cToken enabled set: the ETH 26 Day EMA Crossover Yield Set (ETHEMAAPY).
This set operates similarly to the ETH 26 EMA Crossover Set, but instead supercharges it by swapping out USDC with the interest-bearing stablecoin cUSDC.
Aave is an open-source, non-custodial protocol to borrow assets and earn interests in deposits.
On January 8th, the Aave protocol went live on the Ethereum mainnet with 16 different assets available to be deposited or borrowed! And five of those are stablecoins. In the protocol, the Aave interest-bearing tokens (aTokens) are pegged 1:1 to the value of the underlying asset, increasing in the balance as opposed to value. It also introduces new features like no-collateral flash loans, stable rate loans, rate switching, and perpetual loans.
Shortly after launch, Aave partnered and integrated with Chainlink to power its oracle, which currently secures 16 cryptocurrency price feeds.
Within a few days, aTokens were integrated into both ParaSwap and 1Inch Exchange.
//DOGR 👹 TECH//
Aragon is a platform that enables the quick deployment of global, bureaucracy-free futuristic organizations, companies, and communities. Aragon Court, the first digital jurisdiction, is launching soon!
Last week, Aragon announced that ANJ pre-activation is live ahead of the Aragon Court launch. People interested in becoming a juror will be able to convert ANT into ANJ, Aragon Court's native token, at the rate of 1 ANT to 100 ANJ until February 10th. After the pre-activation period, ANJ will only be available at a variable rate set by a bonding curve smart contract. A minimum of 10,000 ANJ is the required active stake jurors need to be eligible for juries and to earn rewards.
As a juror, you'd be helping resolve disputes, which have binary outcomes, between other people and organizations. For their service, active jurors are eligible to earn DAI rewards from Subscription Fees, Dispute Fees, and Appeal Fees.
//HOT MESH//
Althea is a system that lets routers pay each other for bandwidth, which allows people to set up decentralized Internet Service Providers (ISPs) in their communities.
Althea shared that they use deep space (a lightweight, cross-compile friendly Cosmos client written in pure rust) so that they can send Cosmos transactions on anything that Rustlang compiles to, such as:
Tiny Web Assembly web page

MIPS processor and ARM embedded processors

OpenWRT routers
Co-founder and CTO of Althea Justin Kilpatrick highlighted that ever since they started leveraging the VPN WireGuard they've noticed a ~15% performance gain from upstream improvements.
An incentivized, lightweight, mesh-based P2P messaging protocol leveraging goTenna and the Bitcoin Lightning Network.
Imagine a dynamic, deployable, mobile mesh network of drones strapped with portable goTennas relaying Blockstream satellite service. The tools exist to make this a reality!
Want to learn more about Global Mesh Labs Lot49? Watch this video from the Blockstack Summit of 2019.
//PODCASTS//
Kubernetes Progress with Kelsey Hightower
Paul Hauner: Ethereum 2.0 is on the Horizon
Lightning Gaming with Carlos Roldan
Contrarian Theses in Crypto for 2020 - Jake Brukhman, CoinFund
DECRED's Akin Sawyerr: Governance Reimagined
//DIS MOMENT//
No. 27 https://twitter.com/i/events/1210651270555541505
No. 28 https://twitter.com/i/events/1213149941411045376
No. 29 Infra https://twitter.com/i/events/1215761453011144704
No. 29 dOGR Tech https://twitter.com/i/events/1215761726844690433
No. 29 Hot Mesh https://twitter.com/i/events/1215763353295036416
No. 29 DeFi https://twitter.com/i/events/1215762386478649344
No. 29 Tezos https://twitter.com/i/events/1215763907735949313
For more Twitter moments and tweets, follow DIS Weekly on Twitter at @DISWeekly.
Powered by the Pocket Network team. By signing up for the newsletter you are also opting in to receiving email updates from Pocket Network (currently only 1 per month). No spam ever.