DIS Weekly #28
Final day to donate to the DIS Gitcoin Grant, Round 4 ends tomorrow at 16:59 PST!
If you've enjoyed previous issues of DIS Weekly, please consider donating to our media grant. This round of Gitcoin Grants CLR Matching ends tomorrow!
DIS Weekly is moving to its own Substack and will start publishing on it from February 3rd onwards. If you'd like to continue receiving weekly curated updates from blockchain projects, subscribe below.
//NODE INFRASTRUCTURE//
DAppNode is a plug n' play full-node solution focusing on increased privacy and user control. Currently supporting Ethereum, Bitcoin, and Monero.
DAppnode has added Ethereum Classic to its roster of deployable blockchain nodes!
Alexey Akhunov signaled that TurboGeth plans to use the proceeds from its Gitcoin grant to buy as many DAppNodes as possible for its team. This will allow them to test turbo-geth on the hardware and run Ethereum archive nodes, which provides an altruistic service to the commons and for the community. As of January 13th, two DAppNodes have already been ordered. In other words, turbo-geth archive nodes are on their way!
A fast, simple plug n' play solution to run a Bitcoin and Lightning Node.
As promised, Casa Node 2 production has been on track, bouncing back from the supplier delay in December. Brain Lockhart, who's in charge of product at Casa, tweeted on January 17th that he just "put the finishing touches on Casa Node 2, and shipped that bad boy…".
Temporal offers scalable Web3 infrastructure to build production-ready applications on top of IPFS.
Temporal announced it has partnered with RIVET to provide IPFS APIs and high-quality Web3 infrastructure as its official IPFS hosting provider.
The Serverless Supercloud. Akash's network enables a permissionless, open, and secure marketplace for unused compute cycles.
Akash delivered a handful of quick updates:
Updated whitepaper and economics to be published soon

Forbole and Big Dipper adds support for Akash in their block explorer

Dokia Capital adds support for Akash in its staking dashboard

Ledger Nano solution for Akash with Lunie Wallet is being explored
Their incentivized testnet is expected to come soon, too!
Chorus One operates infrastructure to provide Staking-as-a-Service across many different PoS blockchains including Cosmos, Terra, Kava, Loom, and more coming soon.
On January 9th, Chorus One announced they received support from the Interchain Foundation to form a working group around "Liquid Staking", as well as, to produce a research report, by the end of April, focused on different approaches to it. Liquid staking is the all-encompassing term related to the efforts and innovations related to staked assets directly on-chain. This includes Everett, Stafi Protocol, Stake Capital DAO, Staker DAO, and Delegation Vouchers built together by Chorus One and Sikka.
The first community call already took place last week, but the next call is scheduled for January 29th at 5:00 PM CET. In the meantime, you can join the liquid staking conversation and find the working group on telegram.
If you missed the first call, you can take a look at the notes and watch the recording, below:
//WEB3 TOOLBOX//
Torus provides frictionless social logins for decentralized applications.
Yesterday, Torus released its latest version, v0.2.12.
They encourage developers who've integrated their DApps with Torusto upgrade to v0.2.12 for optimal stability and compatibility. This upgrade includes new features to the Torus Wallet, such as PopUp UnBlock, support for ENS Domains, and localization of more languages.
Terminal is a Web3 developer platform for building, testing, and monitoring decentralized applications.
Terminal announced the release of a new integration: Web3-Provider Engine!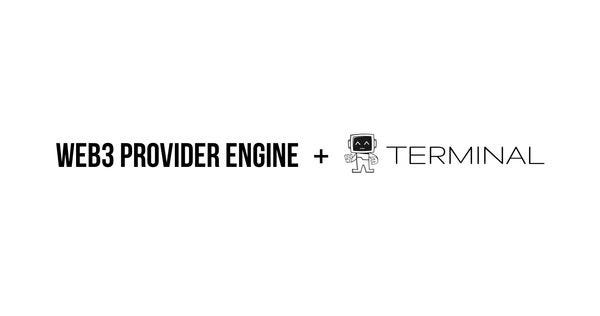 Their framework comes fully set up to connect to your Terminal account and provides a basic layout of what you'll need when building a DApp using Web3-Provider-Engine.
Also, Terminal shared that they'll release frameworks for Web3Connect and Web3-React soon.
MoonPay is a fiat to crypto on-ramp solution for applications that allows users to buy cryptocurrencies easily and instantly.
MoonPay announced they are now officially live in the USA!
Also, MoonPay recently began supporting the UK Faster Payments Service (FPS) and the Single Euro Payments Area (SEPA). This means that all of their partners and users will be able to add GBP (£) and Euro (€) bank transfers as a payment option.
//WALLETS//
Gnosis Safe is an open-source, non-custodial smart contract wallet.
Gnosis Safe introduced a new Safe contract version, available for its mobile apps. This update adds support for ERC721 (NFTs) and ERC1155 tokens.
Nexus Mutual announced that Gnosis Safe users can now buy cover to insure their funds against smart contract bugs for just over 1% per year. Hugh Karp, Founder of Nexus Mutual, tweeted an analogy comparing Gnosis Safe to a bank account and Nexus Mutual to FDIC Insurance. It makes for an easy explanation!
Status is an open-source, secure, private messenger, crypto wallet, and Web3 browser.
The Status Network had its first Town Hall (#49) of this year!
It includes updates from Core, Keycard, Assemble, Teller, Embark and more.
V1 of the Status developer build was approved by Apple (within two hours). The official release build is expected to also be approved and should be available in February 2020.
Fuse is a DPOS blockchain network and an interface for non-technical entrepreneurs to launch local services using Ethereum smart contracts. Turning communities into economies!
Fuse is getting ready to launch its brand new wallet!
Check it out:
AlphaWallet is a mobile Ethereum wallet and creator of TokenScript.
AlphaWallet leverages TokenScript to make it super easy for users to convert their old SAI into new DAI inside the SAI token card, within their wallet browser.
Portis is a universal Web3 interface with a user-friendly, familiar email and password login mechanism that doesn't need a third-party installation.
Last week, Portis shared that they experienced a DDoS attack, which affected their servers' performance especially since the number of incoming requests grew significantly over the course of 48 hours.
It's important to know that your funds are safe, as long as your password is secure. Just in case, make sure to log into wallet.portis.io, then change your password and add 2FA.
Multis "the crypto-bank for companies" is an interface for an organization's crypto-assets.
Multis released a detailed write-up called Gasless MULTISig, illustrating what they've been doing to integrate the Gas Station Network. Multis is forking the Gnosis Multisig in order to allow for free account creation and allow for companies to pay for gas on behalf of its own users.
Earlier this month, Multis introduced a new landing page that is more aligned with their vision of crypto-first business banking.
//HOT MESH//
Althea is a system that lets routers pay each other for bandwidth, which allows people to set up decentralized Internet Service Providers (ISPs) in their communities.
Althea welcomed a new Altheahood in Van Wyck, Washington!
They've also teased that an Althea app is coming soon. It will enable Althea users to resell bandwidth to nearby mobile phones. Essentially, this turns any place within range of an Althea router into an internet cafe, as Jehan Tremback likes to say.
//PODCASTS//
Validator Business Model Discussion with the Decentralized Staking Defenders
Venture DAO with Ameen Soleimani and Gabriel Shapiro
Amazon Kubernetes with Abby Fuller
Hasu: Discussing Ethereum's and Bitcoin's Differences
Leveraging DIA and Bitcoin on Ledn.io, with Mauricio Di Bartolome
Where is Adoption Happening in Crypto? - Chris McCann, Proof of Capital
Follow DIS Weekly on Twitter at @DISWeekly!
Powered by the Pocket Network team. By signing up for the newsletter you are also opting into receiving email updates from Pocket Network (currently only 1 per month). No spam ever.