DIS Weekly #8
DIS Weekly covers developments in the space of decentralized infrastructure solutions.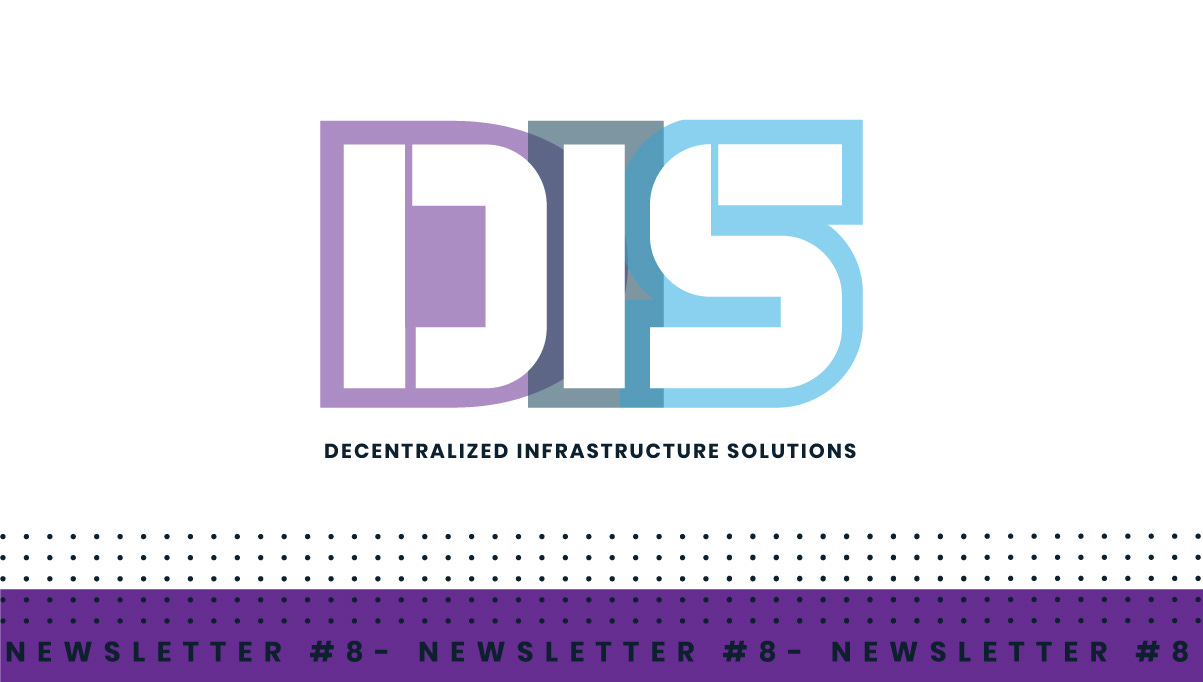 If you'd like to submit your project updates or podcast episodes for the next round of DIS Weekly / DIS Moment, email us at dis@pokt.network or DM us at @DISweekly.
//NODE INFRASTRUCTURE//
AVADO has been curating and developing solutions to provide AVADO Box owners a means of earning cryptocurrency. This is accomplished through Smart Mining, which either rents out processing power, storage, or bandwidth. AVADO introduced its first "Smart Mining" application: Mysterium Network, an open-source network that allows individuals to monetize their excess bandwidth. By installing the Mysterium Network node package from the AVADO Dappstore, box owners will be able to share their bandwidth with a decentralized VPN-as-a-Service and earn up to 50 USD worth of ETH per month.
Akash is a permissionless network that creates space for anyone to offer or consume computing services. Providers will be able to monetize a depreciating asset, like an unused or excess server. By providing a decentralized cloud marketplace, with a reverse-auction model, customers can bid instead of being told what to pay by other providers. It essentially commoditizes computing in where the price is driven by free market economics.
Pocket currently serves decentralized full-node infrastructure for five major blockchains and their respective testnets. This includes AION Network, Ethereum, Tezos, POA Network, and Lighstreams. To name a few, nodes are being run by Figment Networks, Nodesmith, QuikNode, Meta Cartel, Protofire, and Pocket Network. The client-side Pocket Core SDK makes it easy for developers to connect their iOS, Android, or Web app to the blockchain of their choice. It only takes a few lines of code, and a couple of minutes to plug into resilient, decentralized node infrastructure.
Imagine multi-chain apps that pull in features, like speed and privacy, from various blockchains. Developers are able to use Pocket as a simple way of interfacing with these different chains, thereby streamlining development for multi-chain dApps. Another interesting way for developers to utilize this potential would be for their app to be connected to both a testnet and mainnet, easily toggling between the two during test and production modes.
With Blockchain Week coming to Israel, Portis will be hosting another meetup. Michael O'Rourke, Pocket Network CEO, will be joined by the Head of Binance X Teck Chia and CEO of Blockade Games Marguerite deCourcelle to share how they are building the blockchain for mass adoption.
//LAYER 2//
On August 28th, Connext announced their v2 launch partners. This includes wallets, applications, and infrastructure providers. These projects and companies have committed to integrating or supporting v2 of Connext as soon as it goes live.
The Raiden light client v0.1 "Properly Cool" has been released for all major testnets. Properly Cool is the very first release of the Raiden Light Client SDK, which is a Raiden Network compatible client written in Javascript and Typescript that's capable of running in modern Web3-enabled browsers, wallets, and Node.js environments.
Connect/disconnect with token networks

Open/close/settle channels

Deposit tokens

Make payments to any node in the network
Curious individuals can play with the Raiden DApp, a reference implementation of the SDK, at lightclient.raiden.network.
//WEB3 TOOLBOX//
Fortmatic, a javascript SDK, provides Web3 capabilities inside standard browsers without the need to download extensions or special browsers. Users sign into a Fortmatic-enabled DApp with their phone numbers and sign transactions with an SMS security code. It's a supercharged 2FA for Ethereum applications.
Local Ethereum, a P2P crypto-exchange platform, has integrated Fortmatic as a mobile phone login option. To celebrate this occasion, Local Ethereum is giving away 1x free trade to every new user that signs up with Fortmatic.
WallectConnect, an open-source protocol connecting DApps to Wallets, has surpassed over 5000 downloads. Many DApps and Wallets support WalletConnect. A little over a week ago, Tokenfolio integrated WalletConnect. Argent plans to integrate WalletConnect in Q4 of this year. And Alice will be shipping WalletConnect with their release, which is coming soon to iOS. It only takes a few lines of code to install the WC Web3 Provider. No wonder, the list keeps growing!
When Coinbase Wallet released WalletLink, the Web3 community struck back. WalletConnect has established itself as the standard among DApp Developers. Pedro Gomes, builder of WalletConnect and Web3Connect, noted that "One works with Coinbase Wallet… The other one works with Trust, Metamask, Gnosis Safe, Argent, Rainbow, Tokenary, Pillar, Walleth, Coinomi, GridPlus, etc".
Today, Linkdrop introduced the Linkdrop SDK v1. It provides developers a way to integrate native linkdrop functionality to their DApps or wallet by encoding ETH and ECR20/721 properties into claimable links and QR-codes. This enables users to send and receive Ether, Tokens, or NFTs without specifying the receiver's address in advance. It will make it easier to onboard new users to the world of Web3.
The Linkdrop SDK will work with a number of other end-user facing use cases, such as:
Send/Receive claimable ETH via links or phone number

NFT marketplace issuance integration

Incentive signups with in-game assets

Send/Receive natively within wallets
//WALLETS//
The Rainbow team has enacted a new policy. All major Uniswap Exchange integrations will be made exclusively available to Unisocks ($SOCKS) token holders before the general public. They'll get early access to Rainbow's upcoming native interfaces for Uniswap Exchange features: Swap, Add / Remove Liquidity, and Rich LP Visualizations.
MetaMask introduced a new proposal for how to bring security and usability together with Web3 Permissions. They believe that the "best way to build a secure yet extensible decentralized system is to permit the fewest possible external permissions by default, while allowing users to take informed risks at their discretion". This fits in between the principle of least authority and social collateral.
They've developed an Ethereum provider API permissions request system prototype "Permissions Adventure", which is basically the equivalent of a pre-authenticated version of OCAP-LD.
This will enable possibilities like:
Letting sites include a signature challenge at sign-in time.

Letting sites specify the network(s) they need to connect to.

Letting sites decrypt messages on a user's behalf.

Letting sites send transactions on a user's behalf.
Pillar Project, a next-gen smart wallet and payment network, has unveiled a new website design to go along with and highlight their new wallet features. The Pillar Smart Wallet made its debut on August 28th. Their team made a short-version demo to show it works.
Gnosis Safe, a smart non-custodial wallet, has also received a brand new makeover with an updated UI and logo. Check it out at safe.gnosis.io.
Organizations and companies are now able to swap USD with ETH and stablecoins from their Multis account with Wyre.
//DEFI//
PoolTogether v2 is expected to launch on mainnet this week with a whole new interface created by Chuck Bergeron. The audit from Quantstamp should be published shortly, too. They've shared the open source code of the next version on GitHub and have decided to continue their bug bounty program. Their CTO Brendan Asselstine has written up a technical description of PoolTogether v2.0 that dives into how they've integrated feedback from the community.
With v2, users will be able to:
Automatically re-enter through draws

Pre-purchase tickets at any time

Withdraw their tokens at any time

Accrue interest, always, on funds

Assign a beneficiary to winnings
Set Protocol recently announced the launch of a 2nd Set in the Trend Trading category on Token Sets: the ETH 50 Day Moving Average Crossover. ETH50SMACO utilizes the 50 Simple Moving Average (SMA) indicator to auto-rebalance between 100% ETH and 100% USDC to stop losses in downtrands and capture upside in uptrends. ETH50SMACO is built using the same DeFi infrastructure as the ETH20SMACO.
In other news, Set Protocol is now listed and actively being tracked on DeFi Pulse.
Outlet, the DeFi bank, provides a way for crypto and non-crypto people to enable their traditional bank accounts to access the DeFi ecosystem and get +10% return on USD. Mainstream users (ie non-crypto people) will be able to earn a higher interest rate on their savings, while using a currency they understand, USD. Outlet is a bank account on the front end, and a crypto DApp on the backend. Check out the UI of Outlet v1.
Dharma has recently pivoted. Last week, their team launched a new version of Dharma. V2 provides a new, easier way to save money by leveraging the Compound Protocol. This brings them one step closer to their mission: "to build the first internet-native, borderless bank - so that everyone, everywhere has the tools to prosper".
The new Dharma was designed to be simple and beautifully minimal. This has been accomplished! With Dharma v2, a smart contract wallet is included. Dharma pays the transaction fees, and doesn't require users to download Chrome extensions nor handle seed phrases. Instead, a user sets an easy to remember 4 digit pin.
//MESH NETWORKS//
At ETH Berlin, Deborah Simpier shared her "Tales From a Decentralized ISP in Rural America". When cost is a barrier, the solution comes in the shape of decentralized infrastructure. With Althea's software, communities are able to leverage existing homes in an efficient way and build a decentralized network where neighbors pay each other for bandwidth.
In their Development Update #74, Althea's headline feature for Beta 8 is the automated xDAI bridge. This will allow users to pay in a more stable currency instead of a more volatile asset like ETH. Check out the demo for xDAI bridge support!
//PODCASTS//
Rebuilding the Web, Restructuring Social Organizations, with Dan Finlay
Anthony Sassano & Eric Conner: EthHub - Ethereum Education and the Quest for Ether Dominance
Talking Ethereum 2.0 with Danny Ryan
Jorge Izquierdo talks Aragon and DAOs
Growing the Crypto Ecosystem with Ella Zhang of Binance Labs
Nervos: Can Smart Contract Platforms be Stores of Value? With Kevin Wang
//DIS MOMENT//
No. 1 https://twitter.com/i/moments/1135585470832893953
No. 2 https://twitter.com/i/moments/1146098208466178048
No. 3 https://twitter.com/i/moments/1150488847819710465
No. 4 https://twitter.com/i/moments/1151488370499104769
No. 5 https://twitter.com/i/moments/1154436794647289856
No. 6 https://twitter.com/i/moments/1156972138940829697
No. 7 https://twitter.com/i/moments/1159159593894854657
No. 8 https://twitter.com/i/moments/1161333702804344832
No. 9 https://twitter.com/i/moments/1163943379564150784
No. 10 https://twitter.com/i/moments/1167156913156612097
For more moments and tweets, follow DIS Weekly on Twitter at @DISWeekly.
Powered by the Pocket Network team. By signing up for the newsletter you are also opting into receiving email updates from Pocket Network (currently only 1 per month). No spam ever.